About Us
The Student Ambassadors act as liaisons between the college and prospective students and their families, guest, alumni, business partners, and friends of the Ivan Allen College of Liberal Arts.
communicate the mission and culture of the College;
strengthen our traditions;
promote Georgia Tech pride; and
encourage lifelong involvement with the College.
The ambassador program is Directed by Elizabeth Miller (404.894.0513).
Our Mission
The Ambassadors serve the Ivan Allen College community in important and rewarding ways as:
Recruiters
As the Official Greeters for the Ivan Allen College, they are expected to remain active and participate in recruitment events sponsored by IAC or one of our six schools. These include summer orientations, campus visits, phone banks, Shadow Day, and other events as they arise.

Educators
In this role, they are asked to educate not only students, but also parents, teachers, and campus administrators about the variety of opportunities in the Ivan Allen College. This will include social media, serving as TL for our GT 1000 sections, college search engines and even making sure Georgia Tech tour guides are kept up-to-date with our college bi-annually and helping train future ambassadors.

Inspirers
They conduct high school outreach and recruitment. They visit and present to at least four high schools (two per semester). This may be done in groups, as part of a fair or along side our Associate Dean John Tone for Undergraduate Studies, an academic advisor or administrator.

Communicators
They communicate for the College through high school presentations, one-on-one conversations, phone banks, managing aspects of our social media, correspondence, summer orientations, etc. They must be flexible and comfortable with this interaction.

Salespeople
In recruiting new students, an ambassador must educate the public, but must also sell those individuals on IAC programs & services. Ambassadors deliver their sales pitch by telling those individuals about the success they have found in IAC.

Role Models
As an ambassador, they work to serve as strong examples of students that IAC would want other students to follow and strive to be like. They are also someone that high school students will recognize and associate with liberal arts at Tech.

Innovative Thinkers
One of the things we love most about our students is the highly varied spectrum of talents and interests they possess. Ambassadors are expected to share new ideas and always look at how to do things better, more creatively, and with more fun!

Professionals
In presenting at a school or welcoming students, ambassadors are professional in their conduct and attire. They also have the opportunity to serve as a paid intern in the Office of Enrollment and Student Affairs. This also includes their commitment to honor their one year of active service to the Ivan Allen College.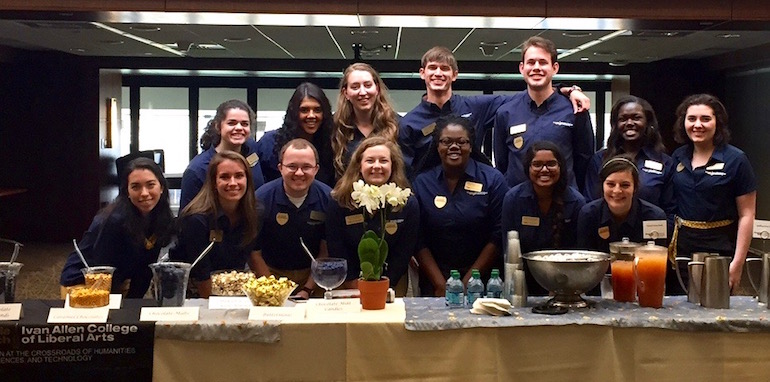 A rare quiet moment at the annual Shadow Day event.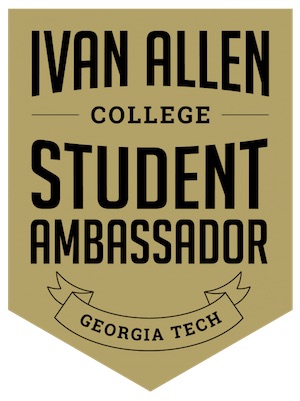 Liberal Arts Student Focused Events