Eligibility
Membership is available to a limited number of students per academic year. The term of membership is for one full year. An attempt shall be made to ensure that ambassadors will be representative of student diversity at Georgia Tech and within the Ivan Allen College.
To be eligible to apply for membership, interested students must:
Be enrolled in the College during fall and spring semesters

Hold a minimum 3.0 GPA and be in good disciplinary standing

Be available to complete the required service hours each semester (15 hours of service each fall and spring [these hours include a group meeting every 3 weeks] and 10 hours total during the 14 week period of summer)

Commit to attending the mandatory weekend training session in October.
Qualities Sought
Good oral and written communication skills.

Knowledge of campus/Ivan Allen programs, activities, academics, etc.

Ability to present effectively and communicate to audiences of all sizes.

Possession of good interpersonal skills, including: the ability to be self-motivated, a commitment to professionalism, and a friendly, positive attitude.

Willingness and ability to participate actively each month.

Commitment to learn the history, statistical data, programs, and opportunities in the Ivan Allen College.

Exhibited Ivan Allen College pride and spirit!
Benefits
Becoming a Student Ambassador is designed to benefit you as well.​
Unparalleled experience in public relations (meeting people, public speaking, representing the College), which develops the skills and confidence vital to success in job interviews and career advancement.

Opportunity to work with and learn from College Administrators and Leadership.

Broaden contacts among faculty, staff, students, and administration academic and professional assistance, including references upon graduation.

Joining a tight-knit community of other Ivan Allen College ambassadors, including ambassador-only events and outings.

Opportunities to develop leadership skills-  Paid internship opportunities each semester in Deans Office, and priority selection for IAC GT1000 TL positions.

Knowledge on successfully executing an event or project.

College recognition and admiration.

Confidence through inspiring and motivating others.

And cool ambassador shirts, name badges, free food, and lots of swag throughout the year!
How To Apply
A formal application must be completed and reviewed by the Selection Committee. The Office of Enrollment and Student Affairs for the college will contact candidates who meet minimum eligibility and will coordinate personal interviews. Because group membership is limited, candidates will be ranked and selected until all openings are filled.
Ambassadors who are successful throughout the academic year will participate in an annual evaluation process. Selection of returning students will always be completed prior to selection of new students.

Applications for the 2022 recruitment cycle are now closed, but will open again in Fall of 2023. For questions, please contact one of our Program Directors.
Training and Meetings
Ambassador Training
We want you to be the best ambassadors on campus and feel confident in your abilities to represent the Ivan Allen College; therefore, we have developed a fantastic weekend training program and activities to help you get up and ready to serve! The weekend training program is mandatory to serve as an ambassador and will occur in late October.
Meetings
One hour mandatory meetings will occur every 3 weeks and are scheduled before the start of each semester. Meetings are currently scheduled on Thursdays from 11am-12pm. Day and time subject to change each semester based on a vote amongst the ambassadors.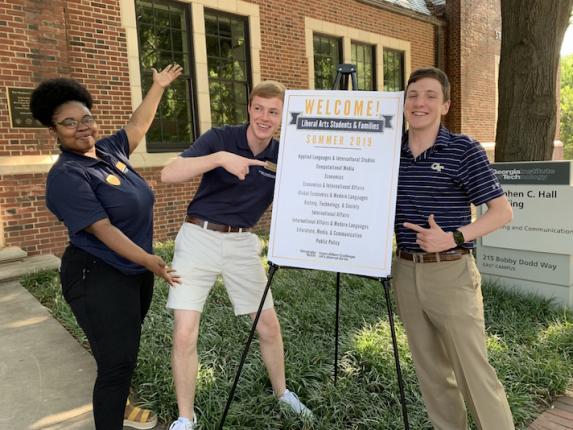 Summer 2019 Ambassador Welcoming First-Year at Orientation